Melexis is a semiconductor manufacturer that has the head office in Belgium.
For over 30 years, Melexis has provided Sensor ICs and Programmable Sensor IC Systems with the superior technology and productivity, for the automotive field where high reliability is needed.
Not only Triaxis Hall IC series that are already worldwide used, but a lot of kinds of Sensor IC with the environmental-responsiveness can revolutionize EV and HV.
Technology of Melexis has been used in many fields, such as automotive, industrial, medical area and household appliances.
| | |
| --- | --- |
| Company Name | Melexis |
| Nationality | Belgium |
| Head Office Location | Rozendaalstraat 12, B-8900 Ieper, Belgium |
| Establishment | 1989 |
| URL | https://www.melexis.com |
We, Star Electronics, are No.1 Business Partner of Melexis in Japan.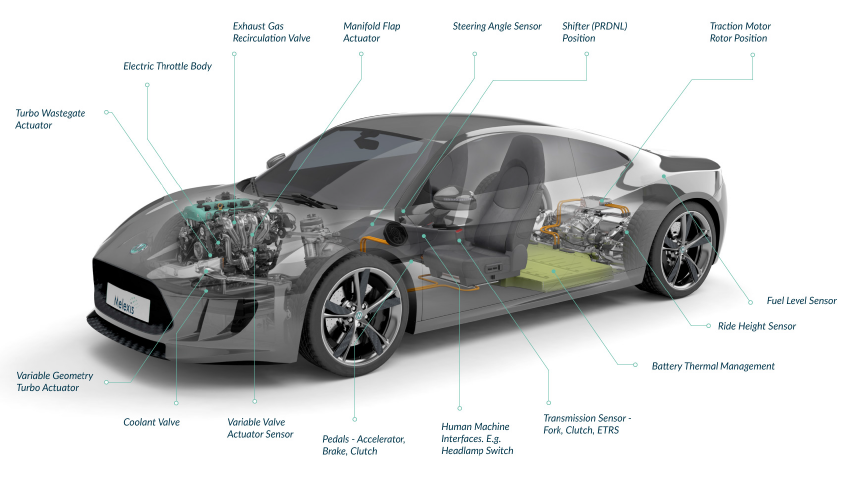 ※Image from Melexis HP
| | |
| --- | --- |
| MLX90224 | Dual Hall Latch |
| MLX92211 | Ultra High sensitive Hall Latch |
| MLX92213 | Micropower & Low-Voltage Hall Latch |
| MLX92232 | 3-Wire Customer Programmable Switch/Latch |
| MLX92242 | 2-Wire Custumer Programmable Switch/Latch |
| MLX92251 | Dual Hall Latch (Speed&Direction Output) |
| MLX92292 | 3-Wire Customer Programmable Micropower ASIL Switch/Latch |
| MLX90251 | Programmable Linear Hall IC(EEPROM) |
| MLX90242 | Fixed Programmed Linear Hall IC (Analog Output) |
| MLX90248 | Ultra High Sensitivity Micropower / Omipolar Hall Switch |
| | Programmable Linear Hall IC (EEPROM) Multipoint Correction |
| MLX90333 | Triaxis Programmable Linear & 3D-Joy Stick Position Sensor |
| MLX90363 | Triaxis Programmable Rotary, Linear & 3D Position Sensor (SPI Output) |
| MLX90364 | Triaxis Programmable Rotary & Linear Position Sensor(Analog/PWM Output)PCB-less |
| MLX90365 | Triaxis Programmable Rotary & Linear Position Sensor(Analog/PWM Output) |
| MLX90366 | Triaxis Programmable Rotary & Linear Position Sensor(SENT Output)PCB-less |
| MLX90367 | Triaxis Programmable Rotary & Linear Position Sensor (SENT Output) |
| MLX90371 | Triaxis Programmable Rotary & Linear Position Seneor(Analog/PWM Output)Stary Field Immunity |
| MLX90372 | Triaxis Programmable Rotary & Linear Position Sensor(PWM/SENT Output)Stray Field Immunity |
| | |
| --- | --- |
| MLX90283※ | Vibration / Motor Driver |
| MLX81150 | LIN Slave for Relay & DC Motor Control (32K Flash) QFN version |
| MLX81205-08 | Sensor-less BLDC Motor Controllers IC |
| MLX81310/15 | Smart LIN Driver IC (DC/BLDC/Stepper Motors) 0.4A-0.8A Current |
| MLX81325 | Sensor-less Smart LIN Pre-Driver (DC/BLDC/Stepper Motors) >1A |
| | |
| --- | --- |
| MLX75030 | ActiveLight Interface (Proximity) & Simple Gesture Sensing |
| MLX75031 | ActiveLight Interface with built-in LED Drivers |
| MLX90614 | Integrated Infrared Thermometor (5V) |
| MLX90615 | Integrated Infrared Thermometor (3V) |
| MLX90621 | 16×4 Thermal Array Sensor |
| MLX90640 | 32×24 Thermal Array Sensor |
| MLX90641 | 16×12 Thermal Array Sensor |
| | |
| --- | --- |
| MLX90807 | Relative Integrated Pressure Sensor(Analog Output) |
| MLX90808 | Absolute Integrated Pressure Sensor(Analog Output) |
| MLX90809 | Packaged Factory Calibrated Integrated Relative Pressure Sensor(Analog/SENT Output) |
| MLX91801 | Tire Pressure Monitoring Sensor |
| MLX90817※ | Harsh Media Automobile Pressure Sensor (Analog Output) |
| MLX90818 | Harsh Media Automobile(SENT Output) |
| MLK90819 | Relative Integrated Pressure Sensor(Analog/SENT Output)Mid-Pressure |
Inquiry about Product Line-Up
Head Office (Tokyo)

03-3452-5710

【Time In】 9 a.m.- 5 p.m.
(Except for Saturday and Holiday)

Branch Office (Nagoya)

052-955-8410

【Time In】 9 a.m. - 5 p.m.
(Except for Saturday and Holiday)